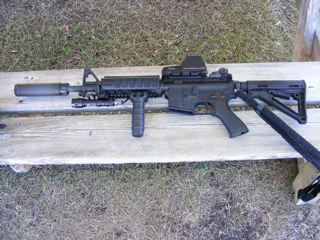 With the recent discussions about the potential federal ban on assault weapons being reinstated,  I thought it would be interesting to see which states already have bans on Assault Weapons
California bans "assault weapons", .50BMG caliber firearms, some .50 caliber ammunition and "unsafe handguns."
Connecticut  Bans "assault weapons" as well as select fire machine guns.
District of Columbia prohibits new acquisition of handguns and any semi-automatic firearm capable of using a detachable ammunition magazine of more than 12 rounds capacity and any handgun not registered after February 5, 1977  (parts recently ruled unconstitutional).
Hawaii prohibits "assault pistols."  Assault rifles and shotguns are restricted the same regular rifles and shotguns
Illinois: Chicago, Evanston, Oak Park, Morton Grove, Winnetka, Wilmette, and Highland Park prohibit handguns; some cities prohibit other kinds of firearms.  Firearms identification card is required.
Maryland prohibits "assault pistols"; the sale or manufacture of any handgun manufactured after Jan. 1, 1985, that does not appear on the Handgun Roster; and the sale of any handgun manufactured after January 1, 2003 that is not equipped with an "integrated mechanical safety device."
Massachusetts: It is unlawful to sell, transfer or possess "any assault weapon or large capacity feeding device" [more than 10 rounds] that was not legally possessed on September 13, 1994 and the sale of handguns not on the Firearms Roster. The City of Boston has a separate "assault weapons" law.
Michigan: Certain folding stock carbines are restricted.
New Jersey  bans "assault weapons" and high capacity magazines.
New York  bans "assault weapons" unless lawfully possessed or manufactured prior to September 13, 1994.
Ohio: Some local jurisdictions use to ban "assault weapons.", but because of a Ohio Supreme court case, all of these laws are unconstitutional under the preemption doctrine recognized by Ohio.
Virginia prohibits "Street Sweeper" shotguns.
The sunset of the federal assault weapons ban does not affect the validity of state and local "assault weapons" bans.
  NOTE  the picture above is an Assault weapon that is also a SBR and has a silencer.