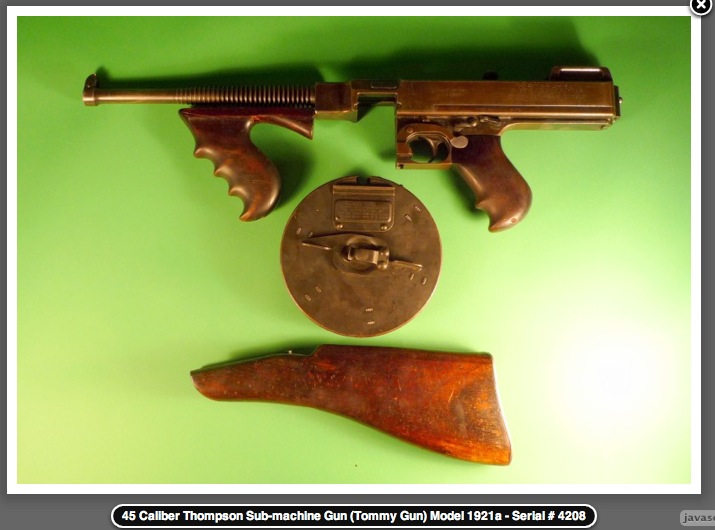 This historic Tommy Gun is believed to have been owned and used by the outlaws Clyde Barrow and Bonnie Parker. The seller's great-grandfather, who was in law enforcement at the time, was given the gun by another peace officer who had seized the weapon after a raid on the pair in Joplin, Missouri in April of 1933.
Just months previous to the raid, Bonnie & Clyde kidnapped a police officer by the name of Thomas Persell. Persell recounted the events of the abduction for the Springfield Daily News and the Joplin Globe, mentioning each time the "Tommy Gun" Mrs. Parker proudly held.
The raid occurred at the height of the duo's crime rampage that cut a wide swath across middle American during the Great Depression. The raid did not produce any arrests. The two had a knack for being one step ahead of law enforcement, but it did yield a cache of weapons, plus a camera. The guns have been in the family of Mark Lairmore and his sisters, the sellers, from Springfield, MO., ever since the unknown Depression-era police officer gave them to their great-grandfather.
Mr. Melton Lairmore, Mark Lairmore's father, registered the Thompson Sub-machine Gun under the name of Lairmore Armored Car Inc. in 1968 inaccordance with the Gun Control Act of 1968.
In a photo available on our website, Melton Lairmore, operator of an armored car service in Springfield, presents two guns taken from the car of famed 1930's gangsters Bonnie Parker and Clyde Barrow to Springfield Police Chief Gordon Loveland.
Lairmore loaned the .45 Thompson sub-machine gun and the 12-guage Winchester shotgun to police for use in displays during Crime Prevention Month and in the future police museum in the old city jail.
The weapons were displayed in the Springfield Missouri Police Museum, also known as The Calaboose, from 1973 until 2011
To see the current price or try to buy it, Here is the link to the auction.