The ATF Study on the Importability of Certain Shotguns was published today.
Many of you have been following the supposed ban on imported Shotguns like the Saiga that was announced by the ATF during the Shot Show in Las Vegas last week. Instead ATF announced a study which may some a little extra time to purchase these firearms before a ban goes into place and states that
A change in ATF's position on practical shooting has potential implications for rifle and handgun classifications as well. Therefore, the working group believes that a more thorough and complete assessment is necessary before ATF can consider practical shooting as a generally recognized sporting purpose.
The items that ATF believes are not suitable for a sporting purpose are:
(1) Folding, telescoping, or collapsible stocks;
(2) bayonet lugs;
(3) flash suppressors;
(4) magazines over 5 rounds, or a drum magazine;
(5) grenade-launcher mounts;
(6) integrated rail systems (other than on top of the receiver or barrel);
(7) light enhancing devices;
(8) excessive weight (greater than 10 pounds for 12 gauge or smaller);
(9) excessive bulk (greater than 3 inches in width and/or greater than 4 inches in depth); (10) forward pistol grips or other protruding parts designed or used for gripping the shotgun with the shooter's extended hand.
Our determinations will in no way preclude the importation of true sporting shotguns. While it will certainly prevent the importation of certain shotguns, we believe that those shotguns containing the enumerated features cannot be fairly characterized as "sporting" shotguns under the statute. Therefore, it is the recommendation of the working group that shotguns with any of the characteristics or features listed above not be authorized for importation.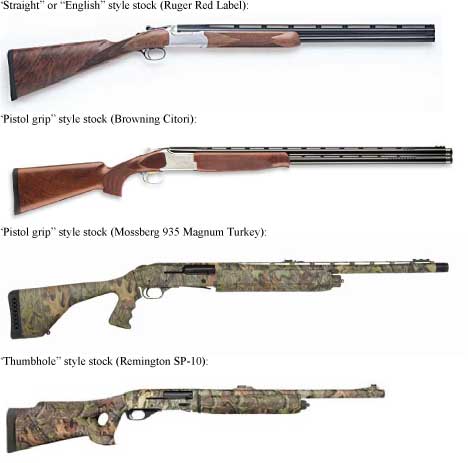 The report has some interesting charts and pictures. I noticed that in the Shotgun Stock Style Comparison, they show many firearms and name them, but the one they do not name is not a stock Saiga but has been modified as the trigger has been moved forward and a separate pistol grip has been added. It looks like the rumored ban on the Saiga's will happen so if you want one, you time may be limited.

What is unknown at this time is what or how ATF will treat those items that are already in the US. Since most shot guns have a bore size greater than 1/2 an inch we could see some devices classified as destructive devices. The ATF is asking for comments and I have included their information below. Please review the study and respond.
Update: Joshua Prince a Pennsylvania Gun Trust Lawyer® has also written a summary of the report that can be found here
All interested persons may submit comments on this study.
Comments may be submitted by
e-mail
to
shotgunstudy@atf.gov
or by fax to (202)648-9601.
Faxed comments may not exceed 5 pages.
All comments must include name and mailing address.
ATF encourages submission of comments no later than May 1, 2011.