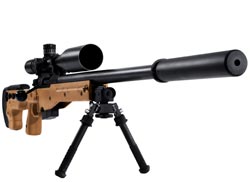 Silencerco is introducing two new rifle center fire suppressors at the Shot Show in Las Vegas this week. The retail price of this series is $899 with a mount.
Their Press Release includes the following information.
The three features for the SPECWAR include:
ACTIVE SPRING RETENTION – The SPECWAR's patented ASR (Active Spring Retention) locking collar ensures your SPECWAR will not come loose under a heavy firing schedule, greatly reducing incidents of the largest causes of rifle suppressor damage, baffle and end cap strikes.
UNIQUE BAFFLE ALLOY -The SPECWAR's fully welded, precision TrueBore Wire cut core features our unique new baffle alloy that represents a significant strength increase over current industry standard materials.
Specwar RS FLASH HIDER – The Specwar RS flash hider is a rock solid platform for attaching your Specwar. The RS stands for Resonance Suppression which is a patent pending technology that keeps the flash hider from ringing like a tuning fork. Used independently the Specwar RS offers superior flash reduction.