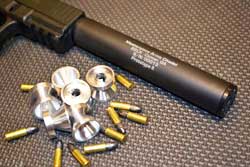 Masterpiece Arms, manufacturer of Semi Automatic SMG Pistols and Carbines and Subcompact Conceal Carry Semi Auto Pistols, is expanding their product offering to include 3 new 22 LR Sound Suppressors starting at less $249.99.
These are low-cost suppressors but no data on sound suppression has been released intentionally They state:
As a relative newcomer to the suppressor market, one of the challenging decisions is whether or not to publish decibel reduction data. One of the things we have learned, as with many industries where technical data may tend to provide a false representation of the quality of a product, is that an appropriate level of skepticism to the reported db data provided by many suppressor manufacturers exists.

DB Equipment variances, lack of a unified testing procedure, and the inability for objective testing groups to be able to replicate the data provided by many manufacturers has led us to the decision not to publish db data as a method of evaluating our product.

As an educated buyer, in the case of suppressors, one should tend to look past the results of decibel reduction as the final say in determining which suppressor meets their needs. Factors such as quality of product, manufacturing techniques, customer service, ease of maintenance, materials used and most importantly, the quality of sound reduction as heard by the shooter are items that will serve the educated buyer well once they have made the decision to purchase a specific suppressor. Rely on your local Class III FFL to provide expert advice, listen to various suppressors and the quality of sound they produce on a similar weapon, and research the company behind the product.

Don't get me wrong, we do meter our products quite extensively. It's one of the many tools used to help quantify our products. It's a very handy tool to benchmark performance and to help us determine if design enhancements are taking us in the right direction. However, we feel its more important to focus on improving the overall performance of our product as compared to focusing exclusively on designing a suppressor that produces the lowest db reading on our testing equipment under the most ideal testing parameters.