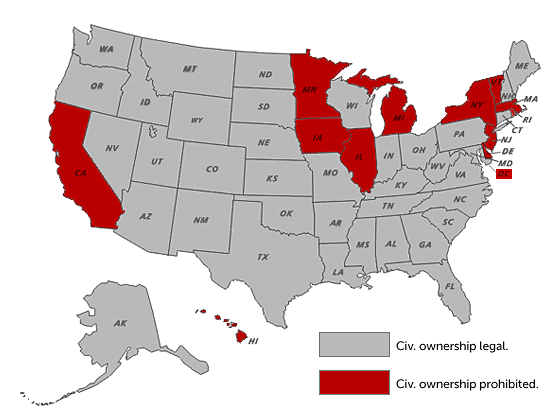 AWC, a silencer manufacture had a nice map of where currently legal to own.
Silencers are legal for civilian ownership in the following states Alabama, Alaska, Arizona, Arkansas, Colorado, Connecticut, Florida, Georgia, Idaho, Indiana, Kansas, Kentucky, Louisiana, Maine, Maryland, Mississippi, Missouri (C&R Required), Montana, Nebraska, Nevada, New Hampshire, New Mexico, North Carolina, North Dakota, Ohio, Oklahoma, Oregon, Pennsylvania, South Carolina, South Dakota, Tennessee, Texas, Utah, Virginia, Washington, West Virginia, Wisconsin and Wyoming.
Civilian ownership is prohibited in the District of Columbia and the following states: California, Delaware, Hawaii, Illinois, Iowa, Massachusetts, Michigan, Minnesota, New Jersey, New York, Rhode Island and Vermont.