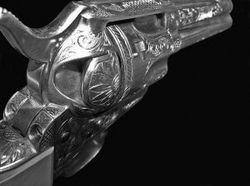 At first glance, Florida has a funny quirk with the way firearms are defined that allows a Felon to possess certain firearms that are not defined as firearms under Florida law.  Upon further investigation, the federal law also exempts antique firearms from the definition of a firearm.  I was recently asked if a convicted felon could possess a black powder gun for hunting in the state of Florida. The answer to this question depends on the gun itself. 
Florida Statutes 790.001(6) defines a Firearm as as any weapon (including a starter gun) which will, is designed to, or may readily be converted to expel a projectile by the action of an explosive; the frame or receiver of any such weapon; any firearm muffler or firearm silencer; any destructive device; or any machine gun. The term "firearm" does not include an antique firearm unless the antique firearm is used in the commission of a crime.

Florida Statutes 790.001(1) defines an Antique Firearm as any firearm manufactured in or before 1918 (including any matchlock, flintlock, percussion cap, or similar early type of ignition system) or replica thereof, whether actually manufactured before or after the year 1918, and also any firearm using fixed ammunition manufactured in or before 1918, for which ammunition is no longer manufactured in the United States and is not readily available in the ordinary channels of commercial trade.
So it would appear that a Felon could own certain black powder guns in Florida as long as the firearm was not used in the commission of a crime.  There has even been some case law dealing with black powder firearms owned by a felon.
In 2005, Florida's 5th DCA, affirmed the lower courts ruling that David Bostic, a convicted felon, had violated the law by being in possession of a firearm.  Bostic had claimed that his black powder firearm was an antique firearm and thus exempt from the restrictions place upon him.  The court agreed that he was able to own an antique firearm but disagreed that his firearm was an antique.  The court stated that Florida case law defines replica as a reasonably exact reproduction of the object involved that, when viewed causes the person to see substantially the same object as the original. The DCA found that Bostic's gun was not a replica because the original did not have a fiber optic sight that was present on his gun.  The court also stated that merely having an ignition system similar to that found on an antique firearm is not sufficient to render a firearm a "replica" of a firearm manufactured in or before 1918.
In Williams, the Florida Supreme Court in dicta dealing with the concealment of an antique firearms states that the result of such an interpretation to allow convicted felons to be in possession of antique firearms is absurd.  And that a basic tenet of statutory construction is to not yield an absurd result.
While these two cases seem to contradict each other, both courts find a reason to deny the felon possession of an antique firearm.  There are no cases which state approve the possession of an antique firearm by a felon.
This topic was also covered on the Jacksonville Criminal Defense Lawyer Blog by Florida Criminal Lawyer