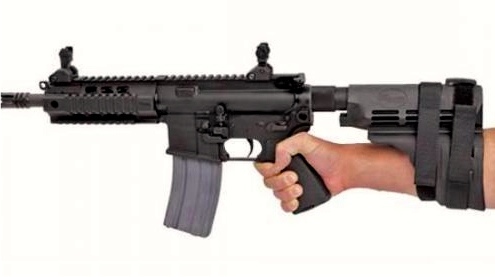 We are all familiar with the inconsistency of the ATF. The ATF has changed their position on the Sib Brace (SB-15) with a pistol. While the ATF, still states that it is legal to use the SB-15 as intended (strapped to your wrist), they have reversed their position on using the SB-15 when shouldered.
You may remember that earlier this year, ATF stated that since the SB-15 is not intended to be fired from the shoulder, the misuse of an individual would not change the classification of the firearm. See the March ATF SB-15 letter
We believe that this is the correct decision and interpretation. The problem is that someone else recently asked the same question and got a very different answer. ATF has now stated that the misuse of the SB-15 (being fired from the shoulder) does create an SBR and make the pistol subject to the NFA.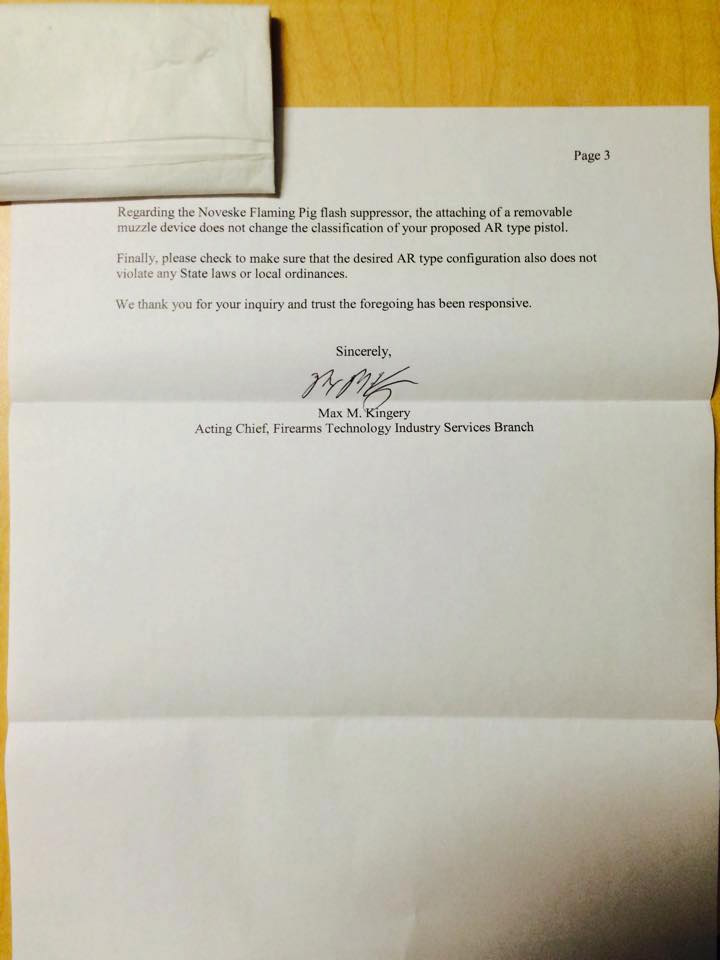 ATF has found that "a Sig SB-15 shooting brace is not designed or intended for firing a weapon from the shoulder" It is our belief that his recent letter from the ATF is incorrect and that their first opinion is a correct interpretation of the law. That being said, what should you do and what is your risk in firing a pistol with a SB-15 Sig-Brace from your shoulder? If you are arrested and charged for possession of an illegal SBR, the costs will be substantial. Second, if arrested or questioned by the police, you should not speak with them as you may provide evidence that could be used against you. An example is that you could state that you intended to fire it from the shoulder when attaching the SB-15. Such a statement could be used against you.
You could fight what we believe is an incorrect determination from the ATF and be successful, if your own actions do not provide the evidence to convict you, but this would be painful and expensive. While, it may be possible to have ATF correct their determination in a properly worded request, it is likely that a federal lawsuit would need to be filed to correct this issue. Obviously, if your liberty is at stake, you will probably have to fund this out of your own pocket.
Until this issue is resolved, many individuals may choose to pay the $200 tax and receive permission to build an SBR using a Gun Trust. It is currently only taking 30 days to obtain an efiling approval to building an SBR. While the overall cost is more, the process may have less overall risk to those who cannot or do not want to risk spending thousands of dollars and risk prosecution of possession.
We will keep you updated as to the status of this issue. In the mean time, while we believe it legal to use the SB-15 as not intended (firing from the shoulder), we are recommending that our clients consider the risks and be careful until this issue has been determined.

12/30/14 UPDATE
It is being rumored that ATF is reversing its position and now moving away from the misuse concept and stating that there is case law on classifiing a firearms by its use. There is some support for classifying a non firearm as a firearm because of use. An example is a black powder gun being used as a weapon, becoming a firearm when used as a weapon and not for hunting.