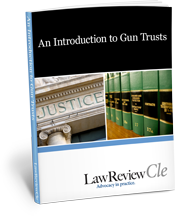 NFA GUN TRUST CLE
I have been asked to teach a CLE on Gun Trusts on September 11, 2013 for LawReview CLE.
Traditional estate planning can be problematic when dealing with firearms. This course will explain how a Gun Trust is designed to acquire, manage, use, and transfer firearms, including those restricted by the National Firearms Act of 1934.
The course outlines the different types of firearms, federal and state laws, as well as an analysis of how to use a Gun Trust.
The agenda will cover
Introduction
Types of Firearms
State Law Federal Law
Types of Ownership
The Gun Trust
Ethical and Malpractice Issues Conclusion
If you are an attorney and interested in becoming a Gun Trust Lawyer, you can also request information by filling the contact us form and checking the box to indicate you are an attorney.