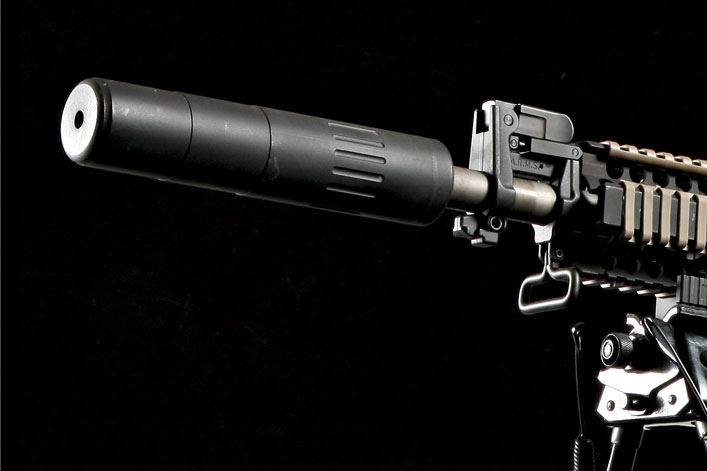 Gun Trust Lawyer® has arranged for a dealer to offer a $215 discount on the AAC M4-2000 Suppressor to our clients. If you have any of our trusts that contain the Gun Trust Lawyer® Copyright notices you are eligible to purchase this suppressor at a price that is $215 less than retail.
This is what AAC says about this 556 suppressor. The worlds most effective 5.56mm silencer just got better. AAC's new M4-2000 Mod 08 features the patent pending fast-attach Ratchet-Mount to provide precision accuracy with minimal and repeatable zero-shift. Users have the ability to install or remove the silencer from the Blackout™ flash hider/muzzle brake, or the BRAKEOUT compensator, in seconds. The compact size and light weight have minimal affect on maneuverability. The M4-2000 Mod 08s extreme durability is maximized by CNC automated fusion welding of every high-temperature aerospace alloy component used in its construction- making 100% suppressed full-auto fire possible on barrels as short as 10 inches. The back-pressure lowering design of the silencer aids in shooter comfort, reduces weapon fouling, and minimizes cyclic rate increase. As a final step, tapered-bore EDM technology is utilized to ensure precise bore alignment resulting in enhanced accuracy and maximum performance. By eliminating approximately 97% of the muzzle report, the M4-2000 Mod 08 preserves the hearing of the shooter and nearby support personnel. Eliminating muzzle flash in the harshest of environments.

If you are a Class 3 SOT and would like to put a special together email us and let us know what you propose.
If you are looking to create a Gun Trust or trust to purchase NFA firearms with legal support contact a Gun Trust Lawyer® and you will be eligible to purchase this suppressor at the special price. Quantities are limited an this offer is only being made while supplies last.
If you already have one of our Gun Trusts or a trust from one a Gun Trust Lawyer®, just contact Silencer America directly by email at sales@silenceramerica.com to reserve your special price on this suppressor. This offer is only good for new sales and only while supplies last.
Note: This website is not a Class 3 SOT and is not selling the suppressors. All inquires for the suppressor should be directed to sales@silenceramerica.com. We are not receiving any compensation for the sales on the suppressor nor are we being compensated to post this special.